PE Monofilament Making Machine FCM-65
Description
FCM-65 is the monofilament making machine with beam type winder which suits HDPE raw material.
It is suitable for our model SR-R, SR-RF and DR-R knitting machines.
The winder is direct beam type so it does not need to use warping machine.
Customer can save the working process of warping and the plant space.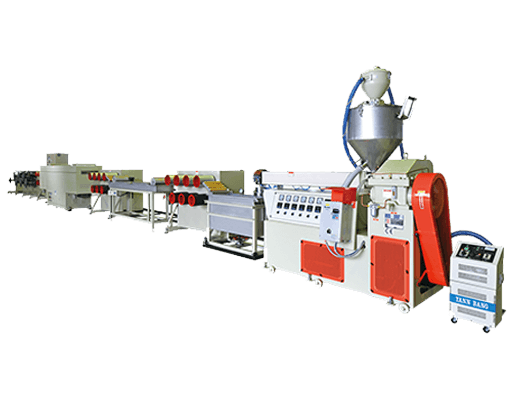 Features
Suitable for Raschel knitting machine SR-R, SR-RF or DR-R Series.
Direct beam type winding, saving the space and cost of warping machine.
Suitable for 14" x 17" beam.
Specifications
Model
FCM-65
Extruder
Screw Dia.
65 mm Ø
Screw L/D
30 : 1
Max. Output
65 kg / hr
Driving Motor
20 HP
Inverter
20 HP x 6 P
Heater Capacity
23 KW
Temperature Control
6 ~ 7 points
Cooling Device
Cooling Type
Water Cooling Tank
Take-off Unit A
Type
7 pcs. of roller
Driving Motor
2 HP
Extension Device
Type
hot water
Heater Capacity
12 KW
Take-off Unit B
Type
7 pcs. of roller
Driving Motor
5 HP
Annealing Device
Type
hot water or hot air
Heater Capacity
12 KW or 24.3 KW
Take-off Unit C
Type
7 pcs. of roller
Driving Motor
3 HP
Winder
Type
direct beam
Total Beams
2 ~ 6 pcs. of beams
Driving Motor
1 kg-m torque motor
Waste Material Winder
Driving Motor
0.5 kg-m torque motor
Dimension L x W x H (mm)
-
20,673 x 1,080 x 2,900
Remarks:
1.Special specifications are also available.
2.Manufacturer reserves the right to change the specifications without notice.
Interested in Our Products?