Slitting and Extension Machine SE-120-N2
Description
Slitting and extension machine is progressive flat yarn feeding equipment for knitting machine, which replaces traditional yarn feeding modes like creel or beam.
The material is PE film which has not been extended yet.
PE film would be slit by razor blades and through the heater plate to make 7.5 times of extension, then the finished flat yarns will be driven smoothly from guide rollers directly to knitting machine.
Slitting and extension machine can make quality flat yarn so it is the best flat yarn feeding equipment for knitting machine.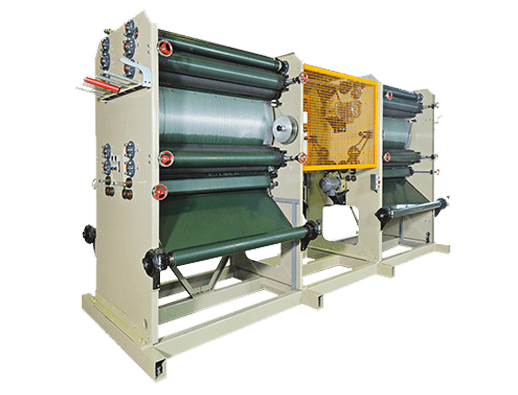 Features
100-1000 denier of PE flat yarn can be made.
Different numbers of PE flat yarns can be produced.
Width of flat yarn can be adjusted with the thickness of washers between razor blades.
About 75,000 meter length of flat yarn can be supplied at one time to save the labor and time.
Provide quality fabrics by stable feeding which can prevent the twist of yarns.
Decrease the waste of raw material.
Conditions of Film
The film used in slitting and extension machine must be smooth and without fold.
The thickness of film is 0.06mm ~ 0.13mm.
The film must have not been extended.
Blown film is better to the machine.
Specifications
| | |
| --- | --- |
| Model | SE-120-N2 |
| Available Width (Max.) | 118 cm |
| Extension Multiple | 5 ~ 10 |
| Thickness of Washer | 2 mm ~ 6 mm |
| Number of Film | 2 Rollers (100cm Dia.) |
| Power Consumption | 12.3 KW |
| Heater Capacity | 2.5 KW x 2 |
| Dimension L x W x H (mm) | 3,762 x 2,352 x 2,310 |
Model
SE-120-N2
L
3,762
4,142
5,611
Total Power
12.3 KW
12.3 KW
18.8 KW
Tie-in Model
DR or SR-170
DR or SR-210
DR or SR-240
Remarks:
1.Special specifications are also available.
2.Manufacturer reserves the right to change the specifications without notice.
Interested in Our Products?