Raschel Knitting Machine SR-F Series
Description
Model SR-F Series is single needle bed Raschel knitting machine designed for making flat yarn products.
The efficiency of knitting machine will be more than 10% if it matches slitting and extension machine.
Because of its steady yarn feeding, the machine can raise the quality of fabric and reduce waste rate.
If customer has flat yarn or monofilament making machine, we can offer creel as yarn let-off system to meet the customer demand.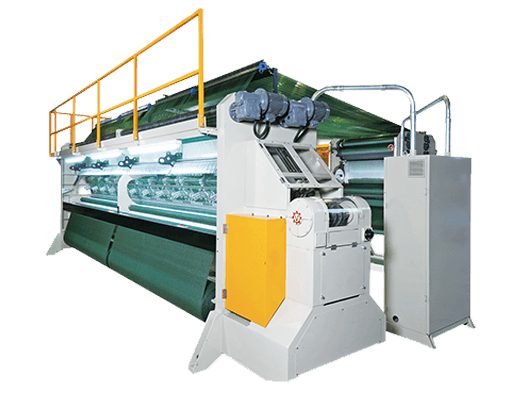 Features
Match slitting and extension machine to save the space
Adopt inverters or servo motors for machine control
Quality production and flexible application
Stable production speed
Simple operating and maintenance
Specifications
Model
SR-F
Available Width
170"
210"
240"
Gauge of Needle Bed
6, 9, 12, 18G/1"
Drive Bar (Total)
2 ~ 8
Yarn Feeding Bar
2 or 4
Main Motor W/Inverter
7.5 HP
10 HP
10 HP
Power Consumption
7.3 KW
9.3 KW
9.3 KW
Yarn Let Off System
Slitting & Extension Machine or Creel
Dimension L x W x H (mm)
6,360 x 1,760 x 2,790
7,320 x 1,700 x 2,790
8,040 x 1,700 x 2,790
Remarks:
1.Special specifications are also available.
2.Manufacturer reserves the right to change the specifications without notice.
Interested in Our Products?